Needless to say, if you want to show, you will need a few things for your cat. You don't have to invest a lot of money in your show supplies, but that might change, depending on how involved you get in showing. The following are a must for your first show.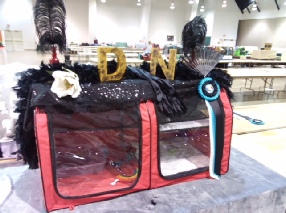 A show shelter is a must. The one in the picture to the left is a typical show shelter, aleit, decorated to reflect the personality of the cat. You can get any shelter that has enough room for food, a litter pan, and lounging, and has good ventilation. Amazon.com has a line called Amazon Basics that are very reasonably priced, although they look different from the one in the picture. The Amazon Basics carrier collapses but does not have a carrying case, like the one to the left. For a novice exhibitor on a budget, the Amazon Basics carrier is a good buy.
Litter pan. You will need a small litter pan for your cat to do her business in during the show hours. I use an appropriately sized Tupperware container that you can buy very cheaply at Wal-mart, in their storage section. Find one that fits your cat's size. Litter is usually provided by the show hall so you don't need to bring your own.
Food and water bowls. You will need a bowl for food and water, since you will be spending the day at the show. You will need to bring your own food. We always use bottled water for our water source to ensure that our cats get safe water. Do not use a show hall's tap water, in case it is not drinking water safe. Also, don't forget your treats.
A comfort towel or blanket. Bring your cat's comfort blanket or towel if she has one. This will help ease her anxiety.
Toys. Keep your cat happy by providing toys for her in the shelter. Use teasers to excite her while bringing her up to the judging rings. Some shows have vendors that might sell cat products. If you forget her toys, you can always buy some from these vendors.
Grooming tools. You will definitely need a brush and comb for sprucing your cat up between rings. Bring some gauze pads to keep abreast of any tearing or buildup of "crusties" in your cat's eyes. Baby wipes are a good item to have on hand, as well. Remember to check her rear end to make sure no kitty litter is sticking to her back hairs.
Calming aids. Don't forget the calming aids to help reduce the stress your cat might feel from this new experience. If you need them, you'll have them on hand; if you don't need them, all the better.
The above supplies are the essentials for a novice exhibitor. As you become more involved in showing, you will add to your supplies as needed. You'll learn secrets from other exhibitors that will encourage you to develop your own show pack. This might include shampoo supplies for re-bathing and a blow dryer for emergencies. It also depends on how far you intend to travel to a show. You might have to add more to your supplies if you intend to make a weekend vacation out of it. It can be an ever-evolving process until you feel comfortable with what you carry to a show. I've been showing for three years and I'm still adding and deleting supplies from my show equipment as needed.
Catherine Rudy